SAN ANTONIO —  San Antonio Spurs shooting guard Danny Green has risen back to the top of the league's most accurate three-point shooters as the NBA regular season approaches its midpoint.
The 29-year-old from University of North Carolina is back on track after what can only be described as an aberration in 2015-16. Last season, he made only 33.2 percent (116-for-349) from beyond the arc.
Green's value as one of the NBA's better perimeter defenders masked his epic slump. Spurs coach Gregg Popovich values defense, above all else. So, Green's spot in the starting lineup never was threatened, nor was he shopped at the trade deadline. The Spurs were on their way to the best regular season in franchise history, 67-15.
Still, Green's slump was cause for concern.
Now in his sixth full season with the five-time NBA champions, Green is hitting 45.5 percent from long range, on 65-of-143 shooting. This is a relief to Spurs fans, who had come to rely on the accuracy that produced an NBA Finals record 27 3-pointers made (on 55.1 percent shooting) in the 2013 Finals, against the Miami Heat.
"Obviously, it's easier to play when you're not thinking about it," Green told Bleacher Report.

Mark Sobhani/Getty Images

The sense of relief is more profound for Green, who couldn't help but feel he had failed the Spurs after they gave him a four-year, $40 million contract—never mind he was one of the absolute steals of a 2015 free-agent market that saw teams dump much bigger money on players with similar skill sets.
(Think Demarre Carroll: four years, $60 million from the Toronto Raptors; Khris Middleton: five years, $70 million from the Milwaukee Bucks; and Wes Matthews: four years, $70 million from the Dallas Mavericks.)
Green insists he never felt pressured to produce after signing the first eight-figure contract of his career. Rather, he cited the adjustments involved in integrating a volume post player into an offense previously predicated on ball movement.
"Last year was definitely an adjustment year," Green said. "We had a slower pace. First time since I was here we had a lot of post-ups, not as many transitions. That's not an excuse. I just didn't shoot it well; couldn't find a rhythm."
It was also frustrating, and Green acknowledged occasional exasperation.
"It was my first time really adjusting to a new team, or new system, or differences of how we were playing offensively," he said. "Now, I know that things do change and I know to take my time and not rush it, not press it. Just take the ones that are open, focus in on those. Before, it was 'quick trigger, quick trigger.' Then, especially if I would miss some, it was, 'I've got to quick-trigger; got to make one somewhere.'
"That was not helping. It was just piling on top of the slump."
Green took a different mental approach by the time the 2016 playoffs arrived—one that produced 24-for-48 shooting from range and provided a template from which to approach the 2016-17 season.
"The playoffs, I think I started to find where I get my shots at; just taking my time and focusing on each shot, as if it's going to be my only shot of the game," Green said. "I knew I may not get that many and teams are closing out, not leaving me and we're posting up, with a slower pace."
That, and offseason Lasik surgery to correct a slight problem with his visual acuity, accounts for his renewed success.
"Obviously, I got some surgery and can see a little better," he said. "That might help. There's many different things that could factor in. Mostly, it's just that some years you shoot bad and some years you shoot good. You can't really explain."
However, one thing never changed, even as his three-point accuracy diminished: The scouting reports that demand defenders run him off the three-point line.
"I don't care how many he's made or missed," Los Angeles Lakers coach Luke Walton said on Thursday night, about 90 minutes before the Spurs scored their most lopsided victory ever over the Lakers, 134-94.
"If it's transition or just a half-court set, if the ball is swung to him we'd better be flying at him."
Despite his record for three-pointers made during a single NBA Finals, Green never has participated in the three-point contest over All-Star Weekend. If he continues to lead the league in long-distance accuracy, the league may have no choice but to include him in this year's long-distance shootout.
But even with his three-point stroke back, Green understands his true value as a Spurs starter never has been measured by the long ball.
More so than Kawhi Leonard—the Spurs' back-to-back Defensive Player of the Year—it is more accurate to call Green the true successor to Bruce Bowen, whose Spurs career was characterized by hard-nosed defense and productive three-point shooting that belied a career field goal percentage of 40.9.
Leonard is one of the game's best two-way players and is San Antonio's top scorer each of the past three seasons (including 2016-17). But, just as Bowen's spot in Gregg Popovich's starting lineup was predicated on his defensive excellence, Green's presence owes equally to his stopping prowess.
Bowen was an eight-time All-Defensive selection, five times on the first team, but never with a scoring average higher than 8.2 points per game. Green has cracked double-figure scoring twice: 11.2 points per game during 2014-15; 10.5 PPG in 2012-13. He entered Thursday's game against the Los Angeles Lakers as San Antonio's current No. 7 scorer, at just 8.0 points per game.
Green never has made an All-Defensive team. Rather, he has been among "others receiving votes" each of the past three seasons. (Last season's vote had him on the first team on 9 of the 130 official ballots filed by sports reporters and broadcasters, his first time receiving any first-team votes.)
This makes him a leading candidate for most under-appreciated perimeter defender in the league.       
"Danny, the thing with him is nobody talks about his defense because he is playing alongside Kawhi, so it is hard to shine or be noticed," said 39-year-old Spurs swing man Manu Ginobili, who ceded his spot in the starting lineup to Green during the 66-game 2011-12 season, when he was limited by injuries to just 34 appearances.
"But, many times he is the guy who starts on the best opponent and guards (James) Harden and 100 pick and rolls; and many other players. He's long and athletic and he understands the game after so many years in the league. He knows opponents, so he is a very reliable piece in our defensive puzzle.
"We understand what he means to us. Hopefully, people do, too."
Green got a chance to be noticed at the defensive end when Leonard sat out the final two games of the 2016 portion of the schedule—home games against the Phoenix Suns and Portland Trail Blazers. Doing the bulk of the defensive work on Phoenix's No. 2 scorer (19.2 PPG), he limited Suns guard Devin Booker to just eight points, on 2-for-13 shooting, in a 119-98 Spurs win on Dec. 28. He also emulated Leonard's ability to disrupt at the defensive end, recording a season-high four steals and blocking a shot.
Two nights later against the Trail Blazers, Green was on Portland's C.J. McCollum, who is now tied as the league's No. 13 scorer at 23.8 points per game. McCollum went 5-for-16 from the field and scored only 16 points.
Green wanted no part of comparison to Leonard.
"The Defensive Player of the Year two times?" he said after his standout defensive work against the Suns. "Filling those shoes is very hard to do. You're not going to be able to do it as well as he does, especially 50-50 balls. Around him, it's usually going our way. It's not 50-50, it's more like 90-10. To fill those shoes with any one individual, it's tough to do. They have a lot more open space on the floor without him there.
"I can't say, 'I'm going to be Kawhi tonight. But, I'm going to be me. I'm going to try my best to play defense and talk to the younger guys and get them in the right places."
Though he spends most of his time defending on the perimeter, Green also has 19 blocks in 30 games. Since 2010, he has 137 games with two or more three-pointers and at least one block. That's second in the league to Kevin Durant, who has 175 such games since 2010, according to the Spurs media relations staff.
While arcane, it is a factoid that speaks to Green's value, as does his combined No. 2 ranking (plus-2.57) among shooting guards in ESPN's Real Plus-Minus, which combines offensive and defensive metrics. He is one of only 12 shooting guards with a positive number. Detroit Pistons shooting guard Kentavious Caldwell-Pope tops the list, at plus-2.75.
With seven new players, the Spurs continue to make adjustments during their first season in 20 years without Tim Duncan. One has been a renewed emphasis on ball movement. They are No. 5 in assists per game (24.4), with a remarkable assist-per-field-goal percentage of 66.7 that is indicative of uncontested shots. Popovich understands its importance and vows it will remain a primary point of emphasis all season.
"With each pass, defense dissipates, shots get more uncontested and there is execution on the court," Popovich said. "It is just something that you never let up on and continue to work at it."
It is an emphasis that plays directly into Green's return to a spot among the very best of the NBA's highly valued "three and D" performers.
San Antonio Spurs Insider's Notebook
Davis

Bertans

Emerges
Power forward Davis Bertans has become a fan favorite in San Antonio after coming off the bench to score a combined 32 points during the team's games against the Charlotte Hornets on Jan. 7, and the Milwaukee Bucks on Jan. 9. A 6'10" rookie from Latvia, he scored a team-high 21 points on just six shots against the Hornets. He scored 11 points, on 4-of-7 shooting (3-of-6 from long range), against Milwaukee.
Green was the least surprised among Spurs players by Bertans' emergence. In 2011, Green went to Europe during the NBA lockout and played on the same Union Olimpija team in Slovenia with Bertans, then 19 years old.
"During the lockout, we played together," Green said. "We go back to the Olimpija days. In Europe, you have no three-seconds (rule), so you need shooters. He was one of my pick-and-pop guys."
Green saw Bertans before he suffered the two ACL injuries that delayed his arrival in San Antonio. Then, the young Latvian turned heads with his athletic dunks.
"I've known 'Davs' before the couple knee surgeries," Green said. "You can probably YouTube a couple of his dunk contest dunks when he was 18 or 19, overseas. After his injury, he's gotten a little stronger, but he still has his bounce there. You want to catch a couple nice dunks, watch his layup line."
Red Mamba Returns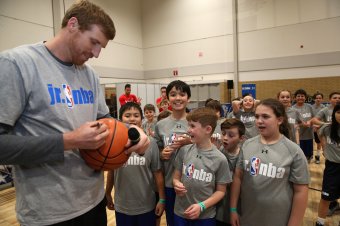 NBA Photos/Getty Images

The news that Matt "Red Mamba" Bonner had returned to the Spurs organization as a studio analyst on locally produced telecasts was welcomed by Spurs fans who revered Bonner's contributions during 10 seasons in silver and black that produced two of the team's five NBA titles.
Even Popovich was thrilled by Bonner's return to San Antonio after announcing his retirement as a player.
"He was a special teammate for everybody," the Spurs coach said. "He had a great skill in his shooting. He always gave everything that he had every night, every practice. He was a consummate pro. And on top of that, obviously, his personality, his humor, were very much appreciated by all of us. He was super, and that's why it's great to keep him in the family."
Bonner made his debut as studio analyst on the Spurs' Tuesday night game against the Milwaukee Bucks. He wore a red-and-black plaid shirt, with a dark blue tie, joking that he had negotiated a "no suits" clause in his broadcasting contract.
In a very cozy and private ceremony, today we retired @MattBonner_SAS 's flannel shirt. #ThankYou15 pic.twitter.com/BXW8NyZC0R

— Manu Ginobili (@manuginobili) January 13, 2017
All quotes obtained firsthand unless otherwise noted. Stats are courtesy of Basketball-Reference.com.