OAKLAND, Calif. — A half-hour after entering the Bridge Club—Oracle Arena's swanky restaurant and bar typically reserved for VIPs—Golden State owner Joe Lacob made his way down the hall to the Warriors' quiet and calm locker room.
First up was Kevin Durant in the back hallway. Then Stephen Curry by his locker, followed by Zaza Pachulia, JaVale McGee and so forth. Everyone still around following a 126-91 victory over the Cleveland Cavaliers got a congratulatory earful from the big boss.
You can say this January win over the defending champions didn't mean a lot in the scope of an 82-game road to the playoffs. And you can say the Warriors can't find the kind of redemption they fervently seek unless these two squads meet again in June for what would be a seismic third straight NBA Finals showdown.
But don't say this drubbing didn't mean anything to the Warriors.
Golden State played some of the best basketball of the season against a foe that had proved troublesome in the near term. An aggressive Curry (20 points on 20 shots) set the table (11 assists), and Durant (21 points), Klay Thompson (26 points) and Andre Iguodala (14 points on 5-of-5 shooting) feasted heartily.
Draymond Green posted his third triple-double of the season—11 points, 13 rebounds and 11 assists—while Shaun Livingston and David West shot a combined 9-of-11 from the floor to ensure the second unit did not cough up the lead on this night.
Sure, the Cavs wouldn't have minded walking out of Oracle with yet another hard-fought win, but the Warriors simply didn't allow such an outcome.
After its collapse on the sport's grandest stage in June, and after a 14-point, fourth-quarter lead petered away on Christmas Day, Golden State finally got the win it craved. And at the regular season's midway point, head coach Steve Kerr's club is 35-6, on pace to become just the third team ever to reach 70 wins.
"Every time you play a team like Cleveland," Curry said, "you know it's going to take an A-plus game to get a win and a lot of energy, physicality and focus. We sensed that early in the game and grabbed the momentum and never really let it go. That's what we're supposed to do, and we want to try to bottle that defensive presence as we go for the next half of the season. We know if we do it at that high of a level, we're tough to beat."
Cleveland struggled all night to find its shot. The Cavs, as one of the league's most formidable three-point shooting teams—coming into the game, they were more efficient than the Warriors—couldn't find their rhythm and afforded themselves few chances to claw back from what was a 37-22 deficit after one quarter.
After starting 2-of-12 from deep, they connected on only seven of 22 shots the rest of the night.
"We're still a work in progress," said LeBron James, who finished with 20 points on 18 shots and one major headache after Green fouled him in the second quarter.
"I don't think there's a rivalry," James added. "It's two great teams that have aspirations."
Cavs head coach Tyronn Lue blamed the loss on turnovers, on not making smart decisions when they were truly needed. But Cleveland was out of sorts in myriad facets. Golden State used a 41-31 rebounding advantage through three quarters to build a lead as large as 36 points. The Cavs were outgunned on the fast break 37-13 as their opponents looked carefree and confident.
"Defensively, to put that kind of pressure on and to rebound as well as we did along with that defense—we were finishing possessions," Kerr said.
And while the Warriors eye much more than one 35-point win, even against such a skilled opponent, they'll be able to look back on moments in this game and see how well they can play when everything is clicking.
The Durant-Curry two-on-one against James late in the second quarter was perhaps the most visible example. Even with the world's best player on defense, it was a hopeless scenario for the Cavs. Pick your poison, but you're likely to get burned no matter the choice.
And the buzzer-beating three to end the first half was indicative of the frenzied style the Warriors embraced and embodied while the game was still competitive. For Curry to top off a 41-point second quarter in such fashion was a fitting continuation of Cleveland's night.
With Oklahoma City on deck Wednesday night and then a trip to Houston on Friday, the Warriors set up the rest of what could be a season-defining week with an exclamatory start.
"You could tell that guys were—even though we wouldn't talk about it as much—thinking about this game," said Pachulia, who finished with four points and 13 boards in 20 minutes.
This win didn't just feel cathartic for the players but the crowd as well. Oracle Arena has been a cautious and somewhat scared site since the events of June. This win may well have exorcised some of those demons, but that will only happen in earnest should the basketball gods pit these two teams against each other again.
If and when that day comes, the Cavs will almost certainly have J.R. Smith back in their rotation, Kyle Korver likely won't get shredded on defense (as he did this night) with more experience in Cleveland's system and the team's leading assister surely won't be rookie Kay Felder, who nabbed a whopping three dimes in six minutes of garbage time.
The Cavaliers are much better than how they played Monday night, and they'll likely romp to yet another Eastern Conference crown.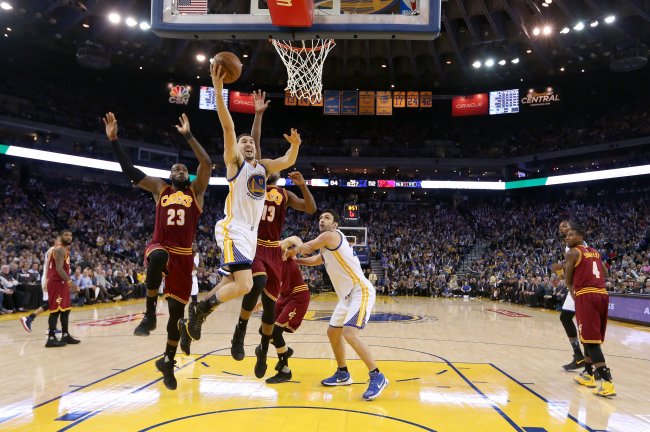 Ezra Shaw/Getty Images

This victory for the Warriors, at least in a macro sense, was a blip in a season-long slog toward the playoffs and possibly yet another two-month run to the Finals.
But in a very real sense, Golden State now has a springboard to run down these final 41 games. A loss would've hurt more than this win helps, but the Warriors will take a performance like this any day of the week.
"We're a really mentally tough team," Thompson said, "and we've realized we still have a long way to go."
On Tuesday, the Warriors will gather in San Francisco to break ground on Chase Center, their spanking new arena slated to open in time for the 2019-20 season. Five years after they promised a move back to the City, that's a long-term prospect that's finally showing some progress.
With this decisive win over the Cavs, their short-term prospects are looking good too.
Erik Malinowski is the Golden State Warriors lead writer for B/R. Quotes obtained firsthand unless otherwise noted. You can follow him on Twitter at @erikmal. All stats via NBA.com/Stats and accurate through Jan. 15.