It was the Boston Celtics' biggest game of the 2016-17 NBA season to date, and Isaiah Thomas was nowhere to be found down the stretch—and not because he was the shortest player out there.
Granted, Thomas was on the court at Quicken Loans Arena on Thursday to close out Boston's 124-118 loss to the Cleveland Cavaliers. But for all intents and purposes, his four points, two assists and one attempt from the field during the final quarter were far from the norm for a guy whose fourth-quarter scoring is second only to Russell Westbrook's.
Thomas, though, would not be denied a second time in as many nights. With the TD Garden crowd behind him, Boston's diminutive All-Star erupted for 26 points in the final frame en route to a career-high 52 points and a 117-114 C's win over the Miami Heat on Friday.
"In the fourth quarter, it felt like I was out there by myself," Thomas said, per the Boston Globe's Gary Washburn.
The Celtics needed every ounce of Thomas' heroics to outlast a Heat team operating without an injured Goran Dragic. With 7:14 left in the fourth, the Washington product dropped his first of three straight threes to extend Boston's lead to 101-93. He hit two more treys following a thunderous dunk from rookie Jaylen Brown to give the C's an eight-point cushion and another three—the old-fashioned way—to keep his team up six with just over four minutes to go.
Miami came back to tie the game at 104, only for Thomas to squash all hope with a nifty layup, a pair of free throws and another three—his sixth of the quarter and his ninth of the game—to all but seal the deal with 37 seconds left.
It was the sort of late-game performance that would mark just about any player as a superstar. In Thomas' case, it's just the latest exhibit supporting his fitness to serve as the leader of one of the NBA's most storied franchises.
Thomas has been on a tear since the season began. He's the top scorer in the Eastern Conference, averaging 27.7 points per game, and the fifth-best in the entire league. He's been even better since returning from a groin injury Dec. 16, averaging 31.8 points per game and leading the C's to seven wins in nine games.
"The game is slowing down for me," Thomas told Bleacher Report's Michael Pina back in November. "I worked so hard this summer just to continue to get better and not be satisfied. And I'm just reading the game of basketball. I'm reading it at a different level." 
Thomas has long been one of the league's toughest covers, and he's gotten even better this season. According to NBA.com, he's been the most efficient individual scorer (1.27 points per possession) among those who have had least two possessions per game in isolation. He also paces the Association in points off drives (10.2) with a mere 0.6 turnovers on his 14 takes per game, and he ranks among the league's 82nd percentile in point production out of the pick-and-roll.
Thomas is hardly an elite three-point shooter, though his 35.5 percent mark from deep this season is passable. More importantly, he's been a flamethrower from the mid-range, where traditional superstars tend to make their bones. According to Basketball-Reference.com, Thomas has drained well over half of his looks between 10 feet out and just inside the three-point line.
Isaiah Thomas' Mid-Range Shooting, 2016-17

| | |
| --- | --- |
| 10-16 Feet | 52.4% |
| 16 Feet | 59.4% |
Source: Basketball-Reference.com
Superstars also have a knack for getting to the free-throw line. In that regard, Thomas fits the bill. He's racked up the sixth-most attempts per game (9.0) but ranks third overall in makes (8.2) thanks to a dead-eye 90.4 percent stroke at the stripe.
NBA's Top-Volume Free-Throw Shooters, 2016-17

| | | | |
| --- | --- | --- | --- |
| Russell Westbrook | 8.8 | 10.8 | 81.7 |
| James Harden | 8.5 | 10.1 | 84.3 |
| Anthony Davis | 7.8 | 9.8 | 79.8 |
| DeMarcus Cousins | 7.5 | 9.7 | 77.3 |
| Jimmy Butler | 8.1 | 9.1 | 88.7 |
| Isaiah Thomas | 8.2 | 9.0 | 90.4 |
Source: NBA.com
Few can compare to Thomas in the clutch. According to NBA.com, he's scored the second-most points per 100 possessions during the final five minutes of games with neither team ahead or behind by more than five points. And he's done it while shooting far more efficiently than the one name ahead of his.
NBA's Top Clutch Scorers Per 100 Possessions, 2016-17

| | | | | |
| --- | --- | --- | --- | --- |
| Russell Westbrook | 68.7 | 43.3 | 32 | 80.9 |
| Isaiah Thomas | 61.2 | 48.1 | 42.1 | 86.4 |
| Paul George | 56.3 | 56.3 | 46.7 | 100 |
| Stephen Curry | 51.9 | 50 | 40 | 86.7 |
| Damian Lillard | 48.7 | 39.2 | 26.3 | 93.9 |
Source: NBA.com
If there's any knock on Thomas' offensive game, it's that he doesn't rack up assists like most point guards. He didn't log a single dime during his 52-point explosion against Miami, and his 6.1 assists rank just the 18th league-wide.
But Thomas has a better assist-to-turnover ratio (2.71) than James Harden (2.12), Westbrook (1.92) and John Wall (2.24)—the only players averaging double-digit helpers—and, as Pina explained, he plays within an offense that encourages everyone to share the ball:
Boston's offense is more egalitarian than most, especially those teams with high-volume shooters at the point (think Oklahoma City Thunder or Washington Wizards). But its pass-happy tendencies fit Thomas' aggressive skill set like a glove: The Celtics move the ball a ton, allowing Thomas to feast as a shifty target who can't be dealt with head-on (a strategy that his good friend Floyd Mayweather can relate to). 
It helps to have a brilliant passing big like Al Horford, who averages 4.9 assists per game, and a physical guard like Marcus Smart, who chips in 4.3 per contest. All told, the Celtics have assisted on the second-highest percentage of their baskets (64.2) and scored the seventh-most points per 100 possessions (107.6)
The only thing that might hold back Thomas from seizing Boston's superstar mantle? Defense.
The Celtics have given up 109.1 points per 100 possessions with him on the court—a hair more than the 28th-ranked Brooklyn Nets have surrendered on the season. Part of that problem is inescapable. At 5'9″, Thomas is officially the shortest player in the NBA. Size-wise, there's not much he can do to obstruct just about anyone he defends, especially within 10 feet of the hoop.
Isaiah Thomas' Defensive Field-Goal Percentages, 2016-17

| | | | | | | |
| --- | --- | --- | --- | --- | --- | --- |
| DFG% | 43.4 | 28.2 | 51.9 | 70.5 | 60.4 | 34.9 |
| FG% | 43.3 | 36.3 | 47.5 | 59.4 | 53.1 | 37.6 |
| Difference | plus-0.1 | minus-8.1 | plus-4.4 | plus-11 | plus-7.2 | minus-2.7 |
Source: NBA.com
Whether that's enough to keep Thomas from superstardom is a matter of interpretation. Harden has been lambasted time and again for his lackadaisical defense. Westbrook's inconsistencies on that end are no secret, either.
That's not to say Thomas' limitations aren't a concern for the C's. If Boston is to contend with the East's elite—let alone the West's best—it'll need Thomas to stand tall against the likes of Cleveland's Kyrie Irving and Toronto Raptors guard Kyle Lowry. Thomas wasn't healthy for his team's lone showdown with the Raps so far this season, but opposite the Cavs, he's averaged 30.5 points to Irving's 27.5.
Thomas may not have the postseason credentials that those two bring to the table. But the night-to-night load he carries outweighs what Irving and Lowry have to shoulder alongside All-NBA performers on their respective squads.
And the impact Thomas has had on the Celtics since he arrived in 2015 is all the more astounding, as team broadcaster Sean Grande laid out:
Marcus Thornton and Skal Labissière.

That's what the Celtics gave up to get Isaiah Thomas.

They were 45-87 before the trade.

88-58 since.

— Sean Grande (@SeanGrandePBP) December 31, 2016
Thomas hasn't done that all by himself in the past or this season. But even Horford, an All-Star who joined Gang Green this past summer, knows how good he has it next to a talent like Thomas.
"It feels really good to have a guy like that on my team," Horford said, per the Boston Globe's Adam Himmelsbach.
Chances are, the rest of the C's feel the same way. That won't stop general manager Danny Ainge from trying to fire up trade talks for other marquee names, especially with the Brooklyn Nets' next two picks in his back pocket.
But if he falls short in that effort again, he can take some comfort in knowing he's already acquired a stud in Thomas who's earned the respect of Beantown's basketball faithful.
Teague Drops Dimes
The Chicago Bulls were once again a mess at point guard during a 111-101 loss to the Indiana Pacers on Friday at Bankers Life Fieldhouse. Rajon Rondo was benched after just 11 minutes of play, with only a rebound, an assist and a turnover to his name. Jerian Grant and Michael Carter-Williams combined for 14 points and two assists in 35 minutes off the bench.
Indiana's Jeff Teague wasn't much better from a scoring perspective (seven points on 2-of-13 shooting), but he more than made up for his misfires in the way you might expect from a point guard. The Indianapolis native racked up a career-best 17 assists to help the Pacers pile up a 14-point lead and fend off a furious Bulls run down the stretch.
Teague has put together plenty of pass-happy performances lately. Over his last 17 games, the former All-Star has logged eight games with double-digit assists and six double-doubles—after coming up dry in both categories during his first 17 outings.
This must come as a welcome sight for the Pacers, who have been middle-of-the-pack in offensive efficiency and assist percentage this season. The more comfortable Teague is in head coach Nate McMillan's offense, the better equipped Indy will be to make some noise in the Eastern Conference.
Teague's uptick has already paid off for at least one Pacer. Over the same span that the former All-Star has picked up his pace, Paul George has averaged 23.4 points per game, including the 32 he poured in at Chicago's expense.
The Family That Ejects Together, Stays Together
Like father, like son?

Austin Rivers and Doc Rivers get ejected within minutes of each other 😂 pic.twitter.com/KTvfQGMwCG

— Bleacher Report (@BleacherReport) December 31, 2016
The Houston Rockets didn't need any help torching the Chris Paul-less Los Angeles Clippers, but they got plenty of it en route to a 140-116 win at Toyota Center.
In the second quarter, Austin Rivers was ejected for pushing an official in what he said was an accident, per the Orange County Register's Dan Woike:
"I promise you I didn't mean to push him…" https://t.co/gFel0Fo6un

— Dan Woike (@DanWoikeSports) December 31, 2016
Moments later, Doc Rivers, Austin's father and the Clippers' head coach, earned an early exit for arguing with officials about his son's ejection.
Pool reporter transcript from tonight's Clippers-Rockets game: pic.twitter.com/DqBcnUMXFO

— NBA Official (@NBAOfficial) December 31, 2016
The Clippers followed up that flurry by cutting a 25-point lead to 12 and later trimming the deficit to six early in the fourth quarter. But L.A. couldn't overcome its depleted guard depth, even with Raymond Felton exploding for season highs in points (26) and assists (eight)—certainly not with the Rockets as hot from the floor (55.6 percent) as the Riverses were at the referees.
L.A.'s on-court cast of basketball nepotism will have to try to keep its cool Saturday, lest its skid extend to six games against Westbrook's Oklahoma City Thunder.
Young Bigs Battle Across Association
The NBA's big-man revolution was televised all over the world Friday night.
The slate of showdowns began in the Midwest, where reigning Rookie of the Year Karl-Anthony Towns went toe-to-toe with Giannis Antetokounmpo. The statistical battle was more or less a stalemate: Antetokounmpo came out on top in points (25-18) and assists (5-3), with Towns grabbing more rebounds (16-7) and notching more blocks (2-1).
And the Greek Freak, per usual, set Twitter aflitter with the usual assortment of mind-bending highlights.
But Towns ultimately came out on top with his Minnesota Timberwolves beating Antetokounmpo's Milwaukee Bucks, 116-99, at Target Center. While the latter had one teammate score 20 or more (Jabari Parker with 20), the former had ample support from Andrew Wiggins (31 points), Zach LaVine (24) and Shabazz Muhammad (22).
Down south, Kristaps Porzingis tangled with Anthony Davis and came away worse for wear. The New York Knicks dropped a 104-92 result to the New Orleans Pelicans at the Smoothie King Center, despite Porzingis' 21 points, 12 rebounds, three assists, two steals and two blocks. Anthony Davis answered the bell for the Pelicans with 23 points, 18 boards, two assists and two steals.
But it was Jrue Holiday who stole the show, as much with his 12 points and 11 assists as with his fearless facial over New York's resident Unicorn.
The most thrilling tiff between titans, though, took place in the Rocky Mountains, where Joel Embiid and Nikola Jokic met for the first time.
Both pivots performed brilliantly throughout the Philadelphia 76ers' 124-122 win over the Denver Nuggets at Pepsi Center. Jokic piled up 25 points, seven rebounds and four assists as the fulcrum of Denver's offense. Embiid answered with 23 points, six rebounds, five assists, two steals, three blocks and a handful of awe-inspiring plays, including a drive-and-dunk around and over Jokic.
In Embiid's mind, though, apparently no part of his performance was more important than his shooting at the stripe. He hit 12 of 14 at the free-throw line, including the two that gave the Sixers their final tally.
"I've always thought that I'm clutch," he told CSN Philly (via Philly Mag's Derek Bodner). "So I just stepped to the line, made my free throws and we won the game."
With that kind of confidence to go along with his impressive physical gifts and his on-court skills, Embiid could run away with Rookie of the Year honors and eventually become the best of the big-man bunch.
Warriors Wallop Barnes Again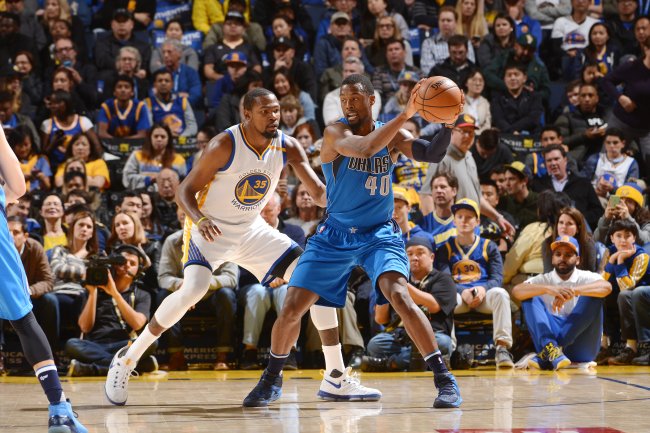 Noah Graham/Getty Images

Harrison Barnes is nothing if not consistent.
The first time he played at Oracle Arena as a visitor, he scored a team-high 25 points during a 116-95 Dallas Mavericks loss to the Golden State Warriors. For Round 2 against his old team, Barnes once again paced the Mavs with 25 but still couldn't pull out a W.
Dallas fell behind by as many as 25 points before rallying in the fourth quarter…to a 108-99 defeat.
The North Carolina product wasn't on the court for that pseudo-comeback. Instead, it was Dwight Powell (10 points, 13 rebounds), Seth Curry (11 points, five assists) and Justin Anderson (six points, four rebounds, two steals, two blocks) who helped to close the gap.
But their best efforts couldn't overcome even another sparkling night from the Warriors' golden boys.
Klay Thompson canned five threes amid a 29-point outing. Stephen Curry chipped in 14 points, four rebounds and five assists, while Draymond Green (13 points, eight rebounds, seven assists) once again flirted with a triple-double.
But it was Kevin Durant who outshone them all. The man who essentially pushed Barnes to Big D logged his first triple-double as a Dub (19 points, 11 rebounds, 10 assists).
The chasm between Barnes' old club and his new one is as wide in the standings as it's been on the court. The first-place Warriors, at 29-5, now sit 19 games up on the Dallas Mavericks, who, at 10-24, own the West's worst record.
Spurs Still Kawhi-t Good Without Leonard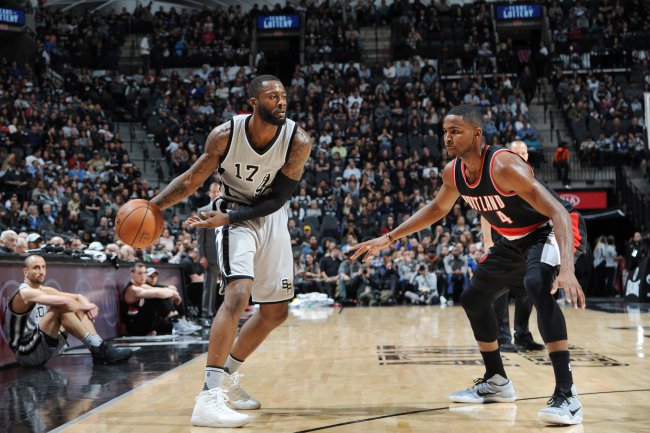 Mark Sobhani/Getty Images

For the second consecutive game, the San Antonio Spurs were without Kawhi Leonard on account of a nasty case of gastroenteritis. And for the second time in as many outings, they handled their business against an inferior foe.
On Wednesday, it was the Phoenix Suns meeting San Antonio's residual wrath. On Friday, it was the Portland Trail Blazers who suffered with Kyle Anderson in Leonard's stead.
To be sure, the UCLA product wasn't one of the main reasons the Spurs turned an early double-digit deficit into a 110-94 win in the Alamo City. Tony Parker and Danny Green popped for 18 points apiece; Pau Gasol and LaMarcus Aldridge put up 18 points between them; Manu Ginobili scored 14 points on eight shots off the bench.
But Jonathon Simmons was the biggest star in San Antonio against the Damian Lillard-less Blazers. The former D-Leaguer shot, sprinted and slammed his way to a team-high 19 points, with a little divine intervention.
We'll let J Simms explain this one… pic.twitter.com/oFaFfHzUvC

— San Antonio Spurs (@spurs) December 31, 2016
Via Simmons' help, the Spurs scored their league-best ninth double-digit comeback win this season and moved to 27-6, within a game-and-a-half of the West-leading Warriors.
Friday's Final Scores 
Indiana Pacers 111, Chicago Bulls 101

Washington Wizards 118, Brooklyn Nets 95

Boston Celtics 117, Miami Heat 114

Houston Rockets 140, Los Angeles Clippers 116

Atlanta Hawks 105, Detroit Pistons 98

San Antonio Spurs 110, Portland Trail Blazers 94

New Orleans Pelicans 104, New York Knicks 92

Minnesota Timberwolves 116, Milwaukee Bucks 99

Philadelphia 76ers 124, Denver Nuggets 122

Golden State Warriors 108, Dallas Mavericks 99
All stats are via NBA.com and Basketball-Reference.com unless otherwise noted.
Josh Martin covers the NBA for Bleacher Report. Follow him on Twitter, Instagram and Facebook, and listen to his Hollywood Hoops podcast with B/R Lakers lead writer Eric Pincus.