Paris Saint-Germain's 2-1 defeat to Guingamp has plunged the French champions into crisis, and manager Unai Emery could very well pay the price. 
After having rotated heavily for the Coupe de la Ligue win over Lille, Emery's lineup for the return to league action was more familiar. 
Edinson Cavani led the forward line, Angel di Maria was back on the right flank and Thiago Silva returned in defence. Even the distinctly out-of-form Alphonse Areola apparently merited selection again for the trip to Guingamp. 
The hosts preserved their top-flight status by a mere five points last season but, having appointed ex-PSG boss Antoine Kombouare in the summer, the Red and Blacks from Brittany have evolved into an impressive side. 
With Emery seemingly taking all the wrong lessons from the midweek victory, Lucas Moura was left on the bench with Blaise Matuidi returning to his wide attacking role. 
Matuidi is a brilliant player because of the way his limitless energy allows him to dominate central midfield and break forward in support of attacking moves. Playing him on the wing deprives him of the opportunity to what it is that makes him special.

David Vincent/Associated Press/Associated Press

The Abyss Stares Back—Unai Emery appears to have no answers to Paris' poor form.
Emery also restored the Silva-Marquinhos defensive axis that has proven itself deeply flawed this season and was rewarded with another display of indecision and incompetence. 
Paris always dominate possession and, by the immutable laws of logic, they are then most at risk of conceding on the counter-attack. 
With that in mind, playing two cautious back-foot defenders together is asking for trouble. Neither Marquinhos nor Silva will pressure the ball-carrier, providing an easily exploited weakness.
Guingamp followed the now-familiar strategy previously employed by Montpellier and Nice to great effect. Conceding the flanks and packing the middle, Guingamp conceded to Paris an abundance of stale, impotent possession. 
Choosing their moments, they swarmed on vulnerable ball-carriers to cultivate counter-attacking moves. The opening goal, scored by Yanis Salibur after 66 minutes, came from precisely this tactic. 
It should have come as no surprise to Paris. The majority of the goals they've conceded in this wretched recent run have come from moves beginning in midfield. 
PSG defeats in Ligue 1:

Laurent Blanc (114 games) – 8

Unai Emery (18 games) – 4

— Mohammed Ali (@mohammedali_93) December 17, 2016
Guingamp winger Nill De Pauw doubled the home side's lead shortly afterward, capping an exquisite counter-attack from a Paris corner. 
Layvin Kurzawa's perfect cross, one of many he's delivered this season, set up Cavani to reduce the deficit to 2-1 with 10 minutes to play. 
The Parisians have often left it late to find their best form this season and, yet again, they dominated the final exchanges at the Stade de Roudourou. 
They could easily have drawn level but that would only have served to mask yet another failure by Emery's team. 
Not since the 2012-13 season have Paris been beaten more than three times in a single campaign. 
Emery's team have lost four already.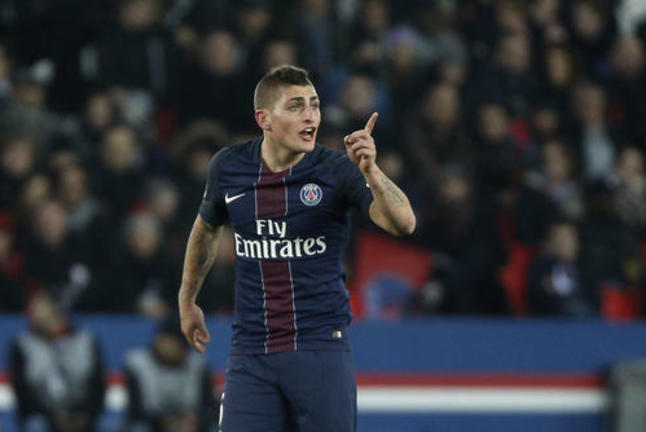 Thibault Camus/Associated Press/Associated Press

Soloist—Marco Verratti is the only Paris player consistently performing.
With 36 points from their first 18 games, Paris are on track for 76 points for the season. That would be the lowest return of the QSI era, fewer points than even the last time they failed to claim the title in 2011-12. 
Paris would need to win each of their remaining 20 games to match last season's points total. 
Immediately after the match, Marco Verratti denied that the club is in crisis. On Canal Sport, he spilled out the usual footballing cliches about hard work but let slip some revealing truth, too.
"I am sure that we are stronger than Guingamp and, if we had played at 100% we would have won. There is something not working."
Paris Saint-Germain are manifestly less than the sum of their parts, and the fault for that must lie with the manager. 
Indeed, even Verratti changed his mind, admitting minutes later to L'Equipe that "for us, it is a crisis."
The improved midweek performance against Lille in the Coupe de la Ligue seems little less than the proverbial dead cat bounce; simply a brief resurgence that precedes a yet more precipitous fall. 
Unai Emery suffers a 4th league defeat. By the time predecessor Laurent Blanc lost four Ligue 1 games he already won his first championship.

— Mohamed Moallim (@iammoallim) December 17, 2016
Laurent Blanc inherited a team moulded by Carlo Ancelotti and ready to win titles. Emery has the much more difficult job of trying to guide Paris into their next phase. 
Simply failing to match his predecessor's glittering achievements would not be reason enough to dismiss him, but a total lack of progress makes those results more concerning. 
There is no evident progress in the style or quality of their performances. Each game follows the same routine, and Emery is directly responsible for this. 
The same flaws surface time and again. 
The Spaniard has failed to resolve the absence of drive from midfield, the consistent confusion in the back line and the disappearance of Angel di Maria's ability. 
A manager's belief in his own footballing philosophy is admirable only to a point. 
When that philosophy consistently yields sterile, one-paced performances, it is time for a change. His insistence on selecting a three-man midfield utterly lacking in dynamism is baffling. 
There is now just one match, at home to Lorient, before the Christmas break.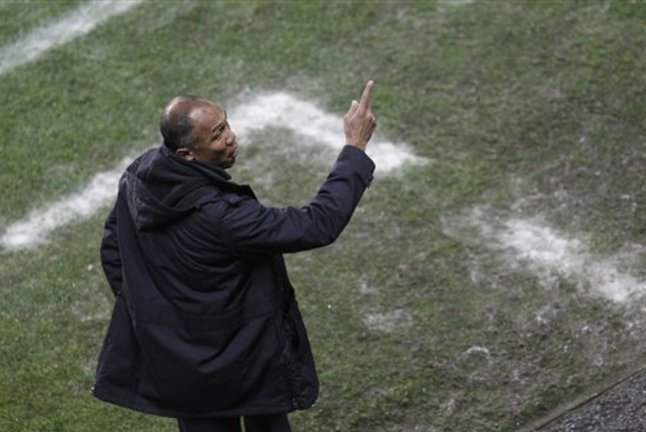 Laurent Cipriani/Associated Press/Associated Press

Vengeance—Sacked in 2011, Antoine Kombouare has delivered a heavy blow to his former club.
Whether Paris beat Lorient at home next weekend or not, their deep flaws have been made manifest time and again. 
This is an inferior group to that which won everything on offer in French football last season, but the quality is there to produce far better results than this. 
It is perhaps fitting that it is Kombouare who has delivered the final blow. 
He was the first of Paris' managers to be dismissed by the club's demanding new owners. His PSG were top of the league at Christmas, but that was deemed insufficient. 
If Nice or Monaco win their final fixtures before the winter break, the gap at the top of Ligue 1 will be at least seven points and surely Emery will receive similar recognition.