There are few better ways of finishing off the calendar year than with a 5-0 win. When that is followed—again, before the clock ticks to midnight on New Year's Eve—with the announcement of a new marquee signing's arrival, it should feel as everything is rosy as the new year kicks in. Yet as it stands, all is not quite what it should be at Paris Saint-Germain.
It has been a turbulent first half to the season for the French champions, and for their new coach, Unai Emery. The winter break must have been a welcome respite for the former Sevilla boss, whose status has been questioned to the extent that Roberto Mancini formally denied being contacted by the PSG hierarchy about taking over, as he told Sport Mediaset (h/t ESPN FC).
The jury remains out, despite the benefit of a few weeks' pause in which to reassess. Those two pre-Christmas boosts—with PSG handsomely beating FC Lorient before completing the signing of Julian Draxler from Wolfsburg, which was formally confirmed on Wednesday—were little more than baby steps towards the aim of creating a more satisfied camp.
Julian Draxler joins the French champions on a four-and-a-half year deal #Draxler2021

Details, reaction: https://t.co/FK4NBXawxd pic.twitter.com/eteiNpt8Gd

— Bleacher Report UK (@br_uk) January 3, 2017
Let's start with the effects of that victory over Lorient that marked the halfway point of the league season. It was a moment of relief, a gasp of oxygen, perhaps. Taking the pressure off, though? No chance.
The Brittany side entered and exited the Parc des Princes as the division's bottom team, so even if the result ended PSG's sequence of three Ligue 1 games without a win, nobody is kidding themselves that any corners have been turned.
The bigger picture is still a cause for concern, even if we take into account the last time PSG went into the winter break in third spot, they still won the title by an eight-point margin (in 2014/15). They have suffered four defeats in the first half of the Ligue 1 season, which is almost as many in the last two league campaigns combined; they were beaten three times in 2014/15 and just twice last term.
Those who assume it will be simple enough for PSG to turn up the intensity post-break should remember just how hard Laurent Blanc's team had to motor at the same stage to shake off Lyon and reclaim the 2015 championship. After a humbling defeat at Bastia in the first Ligue 1 game of 2015, PSG won 14, drew three and lost just one of their last 18 matches.
Emery's vintage has yet to prove it is capable of the same. The gap in philosophy between coach (micromanaging preparation, playing on the counter) and team (used to being left to get on with it, possession-centric) has proved harder to close than might have been anticipated.
It's a question of emphasis more than personnel. The midfield triangle of Thiago Motta, Marco Verratti and Blaise Matuidi remains intact—the fact that Grzegorz Krychowiak, such a pivotal presence for Emery at Sevilla, has been relatively peripheral in Paris is symbolic of the coach's issues in totally imposing his modus operandi—but isn't quite the same.
Matuidi's recent deployment on the left side of attack is a case in point. It is a clunky fit for the France international (and one you assume would be shelved in light of Draxler's arrival), and moving a box-to-box player into a creative position is also a defensive move—very Emery, but not very Paris Saint-Germain.
It might be permissible as a one-off against one of the titans of the Champions League, but as a regular tactic, it would probably instigate dissent.

Jean Catuffe/Getty Images

Monaco beat PSG in August and will again be a threat when they visit Le Parc
Internal confidence will be everything going through January. The fixture list is fairly clement to start with, incorporating home fixtures against Bastia (in the Coupe de France) and Metz.
It should give Draxler a chance to earn some early credit, perhaps slotting in on the left with either Angel Di Maria or Lucas Moura on the right. It is an exciting prospect. Yet with AS Monaco coming to the Parc des Princes before the end of the month, the hour of reckoning will arrive fairly quickly for Emery and company.
Leonardo Jardim's side are extremely dangerous away from home—and, as things stand, a much more fluent outfit than PSG. Yet aesthetics, and even domestic results, are not necessarily the bottom line.
Emery, of course, was brought in for his mastery of European competition, albeit in the lower tier of the Europa League. He could survive not winning the Ligue 1 title if he engineered significant improvement in the Champions League, with the limp exit to Manchester City in last season's quarter-finals the moment that saw the club's confidence in Blanc drain away.
Yet what happens in the next month will be highly indicative of whether Emery is in a position to do that.
Their domestic form, and what happens in terms of arrivals and exits to and from the squad, will shape their season and the coach's future. It will determine whether PSG can be in the sort of fettle to trouble Barcelona in the Champions League in the last 16—and whether Emery is still the man to lead them through it and beyond.
Paris Saint-Germain's fixtures in January

| | | | |
| --- | --- | --- | --- |
| Date | Opponent | Venue | Competition |
| Jan. 7 | Bastia | Home | Coupe de France |
| Jan. 11 | Metz | Home | Coupe de la Ligue |
| Jan. 14 | Rennes | Away | Ligue 1 |
| Jan. 21 | Nantes | Away | Ligue 1 |
| Jan. 29 | Monaco | Home | Ligue 1 |
PSG
Draxler's arrival is ostensibly an early boost in that quest. His name, partly forged by his performance in last season's Champions League tie against Real Madrid as well as flickers of brilliance with Germany, is a fillip in itself.
It is more than that for Patrick Kluivert, the rookie sporting director seeking to make a mark (and what a difference it makes to Emery to have him as a shepherd in the transfer market rather than Sevilla's experienced Monchi).
Yet if the 23-year-old possesses an uncommon mental strength to deal with elite-level pressure and huge potential, he has not had a good season so far. He will be expected to click into gear quickly, though one wonders what his arrival will do for Lucas, who has been excellent in this campaign to date, and Di Maria, who has not. That's not to mention Hatem Ben Arfa, who this week acknowledged his "difficult" start to life at PSG with some frankness, per L'Equipe (link in French).
Di Maria's difficulties this season have been a totem for concern over Emery's governorship of the squad. There has even been talk in France that a move to China might be an acceptable get-out of the current funk for both a player who was so potent last season and his club, per L'Equipe (link in French).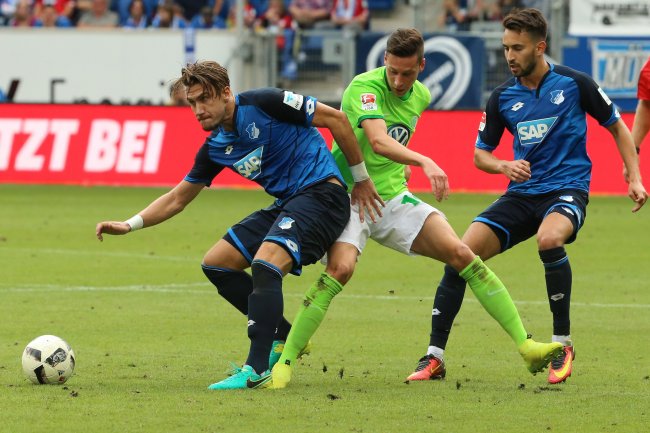 TF-Images/Getty Images

Julian Draxler must engineer a sharp upturn in his form so far this season
He is not the only player performing below his best. Verratti, coming off the injury that forced him out of Euro 2016, has been striving for his consistent best. Goalkeeper Alphonse Areola, a player with whom Emery was well familiar after his excellent year on loan at Villarreal, has tailed off badly after a promising start to the season.
Kevin Trapp has hardly won unanimous approval in the capital since arriving from Eintracht Frankfurt in summer 2015, but he was preferred to Areola for the match against Lorient which closed 2016. For now, there are too many questions.   
January is about erasing all doubts for Paris Saint-Germain on and off the pitch. Draxler is the first piece of that jigsaw and how he fits in—and how quickly—will have a huge bearing on Emery and PSG.