The term "ace" gets tossed around too liberally. There's more to it than simply being the best pitcher on your team.
The Washington Nationals' Max Scherzer, however, checks most of the ace boxes.
He's got the gaudy strikeout totals, including an MLB-leading 267 entering play Tuesday. He's earned the hardware—namely, a 2013 American League Cy Young Award with the Detroit Tigers. And he's racked up the individual accomplishments, including a pair of no-hitters and a record-tying 20-strikeout game.
One thing Scherzer has never done? Taken a team on his back and carried them to World Series glory.
He's had his share of playoff experience, and he's logged some strong October starts. Now, after the Nats wrapped up the National League East on Saturday, Scherzer has a chance to etch his name in the alabaster of postseason lore.
The 32-year-old right-hander is having an exemplary season overall, but he's been especially dominant in the second half, posting a 2.51 ERA in 13 starts with 103 strikeouts in 89.2 innings. He's pitched into the seventh inning or later in each of his last seven outings and has won nine of his last 10 decisions.
"He is the epitome of a shutdown inning," Nationals manager Dusty Baker said, per Chelsea Janes of the Washington Post. "You give him some runs, and he knows how to close the door."
He's at the forefront of the NL Cy Young conversation, as USA Today's Bob Nightengale opined:
Dusty Baker has managed five MVP winners:Barry Bonds (3),Jeff Kent and Joey Votto.He may now have 1st Cy Young winner in #Nats Max Scherzer

— Bob Nightengale (@BNightengale) September 22, 2016
The question now is, can he keep it up when the lights get brightest?
Scherzer last pitched in the postseason in 2014. That year, he made a single start in the American League Division Series against the Baltimore Orioles and surrendered seven hits and five runs in a 12-3 loss.
His strongest playoff start came in Game 2 of the 2013 American League Championship Series against the Boston Red Sox, when he fanned 13 in seven innings and allowed just one run and two hits. 
Overall, Scherzer's playoff resume is checkered. There are gems, and there are flame-outs. His total line—a 3.73 ERA with 80 strikeouts in 62.2 innings—is solid but not transcendent. 
The Nationals don't necessarily need him to be transcendent to make a deep run. But it sure would help.

Jennifer Stewart/Getty Images

Manager Dusty Baker called Scherzer "the epitome of a shutdown inning."
Second baseman Daniel Murphy, who is in the mix for the NL batting title, is out with a glute strain, per Janes. And Stephen Strasburg, Scherzer's running mate atop the Nats starting corps, is working his way back from an elbow injury and has yet to throw off a mound, let alone make a rehab start.
"I'd hate to see life without Daniel and life without [Strasburg]," Baker told Janes. "Those two are big horses."
If either or both can't go, or if they're at less than full strength, Washington will have to ride Scherzer that much harder. Then there are the injury whispers surrounding underachieving NL MVP Bryce Harper.
Tanner Roark makes for a capable No. 2 with his 2.70 ERA in 200.1 innings. Speedy rookie Trea Turner—who is hitting .340 with a .923 OPS and 27 stolen bases in 67 games—is an offensive catalyst. Catcher Wilson Ramos has 22 homers and a .307 average. The bullpen boasts the third-best ERA in baseball at 3.40.
It keeps rotating back to Scherzer, though. As soon as the ink dried on his seven-year, $210 million deal with Washington in January 2015, he became the Guy, capital "G."
How has Scherzer fared against other possible NL postseason contenders? Let's take a gander:
Scherzer vs. NL Playoff Hopefuls' Current Rosters

| | | | | |
| --- | --- | --- | --- | --- |
| Team | AB | AVG. | OBP | SLG |
| LAD | 103 | .282 | .324 | .417 |
| CHC | 121 | .207 | .267 | .421 |
| NYM | 322 | .224 | .287 | .398 |
| SFG | 87 | .253 | .316 | .506 |
| STL | 109 | .229 | .276 | .367 |
Stats courtesy of ESPN.com
The Los Angeles Dodgers, who wrapped up the NL West on Sunday, are locked in as the Nats' division series foe.
L.A. hitters have made some hay against Scherzer in their careers, as you can see. He hasn't faced the Dodgers this season, but Los Angeles is 5-1 against the Nationals in 2016 and has Clayton Kershaw back atop its rotation.
Scherzer and the Nats will…
Remember, though, Kershaw has wobbled in the playoffs, where he's 2-6 with a 4.59 ERA. If Scherzer can outduel him in Game 1 of the NLDS (assuming that's the matchup), it could go a long way toward derailing the resilient Dodgers' momentum.
If the Nationals survive and advance, their likeliest NLCS opponent is the Chicago Cubs. Scherzer has good lifetime numbers against the potent Cubs lineup, but he's had split results this year.
On May 6, Chicago tagged him for seven runs in five innings in a 6-8 defeat at Wrigley Field. On June 13, Scherzer got revenge, fanning 11 in seven frames at Nationals Park as the Nats prevailed, 4-1.
We won't speculate on potential World Series opponents, because that would be getting way far ahead of ourselves, and because the AL postseason picture remains in flux. But Scherzer has familiarity with all the Junior Circuit contenders from his days in Detroit.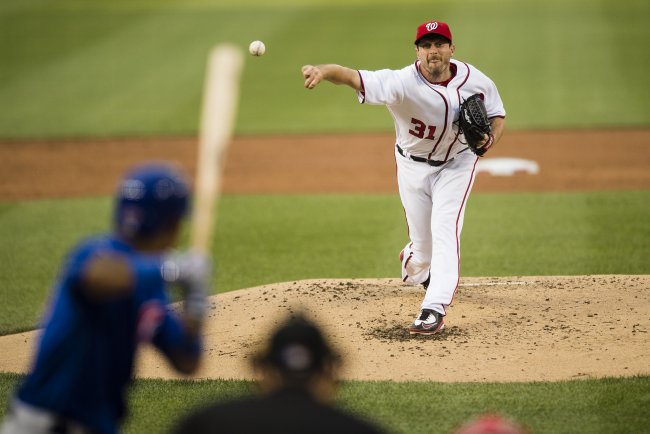 Patrick McDermott/Getty Images

Scherzer fanned 11 Cubs hitters in a 4-1 win June 13.
In the postseason, anything can happen. It's a small-sample cauldron where stars sometimes fade and obscure players rise. That's the beauty of October.
If you're a Nats fan hoping to see Scherzer do a 2014 Madison Bumgarner impression, however, your hopes are not unfounded.
FanGraphs puts the odds of the Nats reaching the Fall Classic at 11.4 percent, compared to 16.4 percent for the Dodgers and 18.3 percent for the Cubs. Those odds rise considerably if Mad Max goes beyond Thunderdome. 
The stage is set. Now, all Scherzer has to do is step on it and throw like an ace.
All statistics current as of Monday and courtesy of MLB.com and Baseball-Reference.com unless otherwise noted.