Roger Federer produced a stunning comeback to beat Marin Cilic in the Wimbledon quarter-final on Wednesday, recovering from two sets down and saving three match points on his way to a 6-7 (4), 4-6, 6-3, 7-6 (9), 6-3 victory.
The seven-time champion had to draw on all of his experience in what was a punishing encounter on Centre Court. Federer looked out of sorts in the early stages, but he found his groove in the third and fourth sets. He saved three match points to push the contest into a decider, and there he had too much for a weary Cilic.
In the last four, Federer will play Milos Raonic, who beat Sam Querrey in the day's other early encounter.
There was little to separate the pair in an evenly matched first set, with a hold to love for each player in the first two games indicative of what was to come.
A series of holds followed, with Federer producing some graceful backhands and Cilic serving strongly. The only break points came for the Swiss star with the scores at 2-2 when an errant backhand sent him 15-40 up, but Cilic quickly responded and fought back to hold.

Ben Curtis/Associated Press

A tiebreak followed, with the Croatian having lost just one point on his first serve, per Wimbledon.
Thanks to a series of forced errors and nonreturnable serves, Cilic quickly raced to a 5-0 lead in the tiebreak. Though Federer clawed his way back to 6-4, the 27-year-old took the set, garnering praise from the New York Times' Ben Rothenberg:
No matter how unexpected his 2014 US Open title was, Marin Cilic is no fluke. He has the weapons to win big tournament(s) still. #Wimbledon

— Ben Rothenberg (@BenRothenberg) July 6, 2016
Things got worse for the No. 3 seed early in the second set, when a long backhand gave his opponent the break.
Federer had the chance to hit back immediately when Cilic sent a forehand wide at deuce in the following game, but as tennis writer Christopher Clarey noted, the 34-year-old was unusually wasteful as he failed to capitalise:
Match of micro-opportunities but Federer missed a big one there with that break-point return off a second serve into the net

— Christopher Clarey (@christophclarey) July 6, 2016
His opponent continued to mount the pressure, and though Cilic couldn't break him again during the set, he gave Federer no quarter.
Soon enough, he claimed the set and a 2-0 lead overall.
BBC Sport's David Law believed Cilic was showing the form that won him the 2014 U.S. Open, while colleague Russell Fuller remarked on Federer's apparent drop in morale:
An hour ago, someone in New York on September 8, 2014 bundled Cilic into a DeLorean, with the following coordinates.

6th July, 2016, SW19

— DavidLaw (@DavidLawTennis) July 6, 2016
Cilic now 2 sets to the good: serving well and bursting with confidence. Federer's belief is ebbing away

— Russell Fuller (@russellcfuller) July 6, 2016
The Swiss maestro avoided an early break in the third, but he still looked vulnerable with Cilic landing some powerful shots. Federer then showed incredible resilience to fend off three Cilic break points with the scores at 3-3.
The confidence he drew from that became apparent as it spurred him to a break—a double-fault from Cilic handing him a 5-3 lead after Federer took the advantage at deuce—and from there, he successfully served for the set, per Wimbledon:
Does the comeback start here?

Centre Court erupts as Federer fights back to take the third set 6-3#Wimbledon https://t.co/rn26OvvmED

— Wimbledon (@Wimbledon) July 6, 2016
It was no surprise; as Stuart Fraser of the Daily Mail noted, Federer hasn't lost in straight sets at Wimbledon in 14 years. But the challenge was overcoming an impressive Cilic in two more stanzas. 
In the fourth game of the fourth set, Federer saved a couple more break points to stay in contention, although the Croatian's serve was tough to make a dent in. And the pressure was on the Swiss when Federer faced the prospect of serving to stay in the tournament at 4-5 down in the fourth.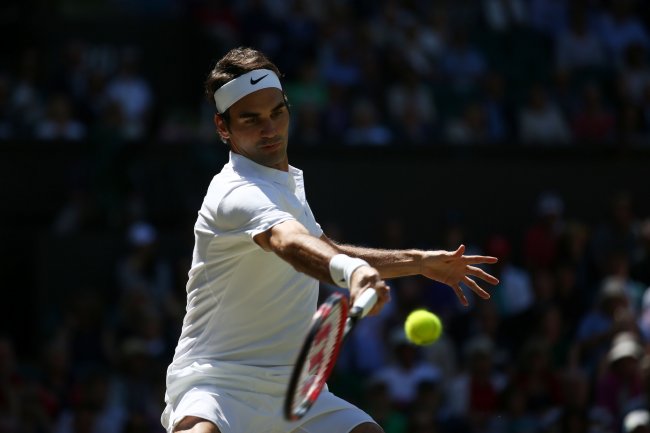 JUSTIN TALLIS/Getty Images

Federer battled hard to stay in the match at the end of Set 2.
In that game, some brilliant power play from Cilic carved out a match point that the seven-time champion saved before going on to win the game. After another hold from the ninth seed, Federer was asked the question again on his serve; again he faced a match point, but again he hit his way out of trouble and into a tiebreak.
Tennis journalist Reem Abulleil praised Federer's mental strength as he battled back from the brink again:
That was CLUTCH from Federer, back-to-back aces help him save a match point then hold for 6-6. Do-or-die tiebreak for the Swiss

— Reem Abulleil (@ReemAbulleil) July 6, 2016
The breaker saw Federer continue to build momentum. A brilliant challenge put him 5-3 ahead, before he fashioned two set points; a poor shot and a fine serve from Cilic brought the score back to 6-6.
Two booming serves from Cilic gave him another match point, which Federer again saved with a fine second serve; eventually, at the fifth time of asking, the Swiss triggered a decider.
It began with some exceptional serving, with both men holding for the opening seven games. In the eighth, some super play from Federer set up a break point that Cilic conceded with a wide forehand; after clawing his way back into the contest, the 17-time Grand Slam champion had a chance to serve for the match.
And with the swagger of a man who has won so many times at this venue, he did exactly that, sparking jubilant scenes on Centre Court. As Bleacher Report UK noted, it was a landmark win for Federer:
Most career Grand Slam singles victories:

Roger Federer—307
Martina Navratilova—306
Serena Williams—302 #Wimbledon pic.twitter.com/NxgCWJxiEI

— Bleacher Report UK (@br_uk) July 6, 2016
"I think the last three sets I played really good," he said, per BBC Sport. "It is really encouraging to see I was improving and I was able to sustain a really high level. My legs and back were there and serving was key plus mentally this will give me a hell of a boost. I am really ecstatic I was able to make it into the next round."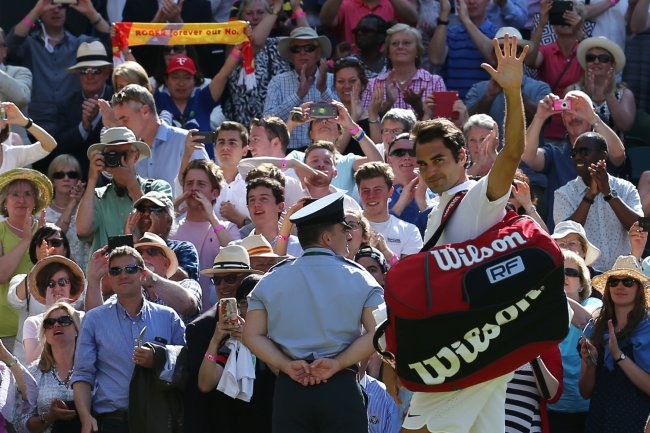 JUSTIN TALLIS/Getty Images

At 34, matches such as this are far from ideal for Federer's ageing legs. But the momentum he'll gather from this triumph will be important as he gets set to face Raonic on Friday.
There are flaws in the Federer arsenal at this late stage in his career, but with his winning mentality, he's going to be tough to get the better of.