So far this season Paris Saint-Germain have done, at best, what is required of them and nothing more. 
Their muddled, unfocused efforts have been sufficient to keep them in the title race, secure a Coupe de la Ligue quarter-final place and progress to the knockout stage of the Champions League.
These are the absolute minimum expectations for a club of Paris' lofty aspirations, and manager Unai Emery could count himself fortunate to have retained his position thus far. After all, Antoine Kombouare was dismissed with PSG in a better position than Emery's side are now. 
A 5-0 thrashing of bottom-placed Lorient marked the halfway point of the Ligue 1 season and allowed Paris to reel in league leaders Nice who could only draw at Bordeaux. 
Paris remain well off the pace, though, with Monaco and Les Aiglons three and five points ahead, respectively.

MIGUEL MEDINA/Getty Images

Surrender? Unai Emery's team need to make rapid progress if he is to survive.
Olympique Lyonnais, expected to be one of Paris' few title rivals before the season, remain five points further in arrears but retain a game in hand with which to close the gap.
If OL are awarded the points for their halted match against Metz, they will be within a single win of pushing Paris out of the Champions League places. Failure to qualify for Europe's top competition would be an unacceptable failure. 
If not for Marco Verratti and Edinson Cavani's efforts, Paris would be in yet worse position. 
Verratti remains the finest player in French football and Cavani, at better than a goal per game, is doing his part. They stand more or less alone among team-mates who have consistently underwhelmed. 
It has been a campaign lacking direction, and PSG are a team without identity. Beyond "win the Champions League" it is impossible to discern exactly what France's capital club are trying to do, and that failure has not simply been limited to the pitch. 
The summer transfer window was an aimless embarrassment. 
The departures of Zlatan Ibrahimovic and David Luiz, icons of Paris' trophy-laden recent history, demanded an epochal response. 
PSG should have flexed their considerable financial might to reinforce their new manager.  Instead, Emery was handed scraps. The signing of Jese Rodriguez is emblematic of the mindless summer transfer window that contributed directly to Paris' current malaise. 

Jean Catuffe/Getty Images

Missed Opportunity—Jese Rodriguez is reportedly set to leave Paris without having shown his best.
FootMercato, citing Spanish reports, claim Jese has agreed to join hometown club Las Palmas on loan after a fitful six months in the French capital. 
The ex-Real Madrid canterano is an excellent player in the right system. Three seasons ago he seemed bound for Spain's World Cup squad before injury dashed his hopes. 
Evidently not a player fancied by Emery, Jese has been limited to a minimal role and given little opportunity to show his obvious quality. 
Hatem Ben Arfa too, a proven Ligue 1 star, has been strangely managed.
In and out of the team, he has rarely been handed the luxury of playing his preferred role and, as a result, he has scored just a single goal this season. 
Grzegorz Krychowiak, an apparent favourite of Emery, serves no apparent role in this Paris team and seems little more than a slight upgrade on Benjamin Stambouli.
The signing of right-back Thomas Meunier was the only summer move that remains above reproach.  His sensational opening goal against Lorient capped a fine start to his career in the capital. 
The transfer window was a setback, but the appointment of Emery himself was also evidently uninspired. 
It seems unlikely a more suitable coach could not have been found, but the Spaniard's European success apparently proved too captivating to look elsewhere. 
Emery's tenure has been undermined by forces out of his control, but he has not helped himself with baffling tactical decisions and a refusal to adapt his plainly unsuited approach.
Motivation has often been a problem for PSG, but that has reached new heights under the Spaniard. 
According to the Sun, Paris will attempt to recruit Arsenal boss Arsene Wenger to replace Emery. Paris' long-rumoured interest makes a great deal of sense from the club's perspective. 
Wenger could—given the time and resources that he would surely be afforded—do more to take PSG into the European elite than any manager in the QSI era. 
He could install a playing philosophy, refine the promising young players emerging from the prodigious academy and bring a sense of top-tier glamour to a club still tinged by the tag of being one of Europe's nouveau riche. 
As logical as Paris' apparent hopes of recruiting Wenger may be, it seems unlikely he would consider it. Wenger would have to relinquish significant decision-making power to people who have demonstrated an unsuitability to wield it. 
This raises the central issue of Paris' project; the Parisians hope to become one of Europe's top clubs but have no apparent idea of how to reach their objective. 
On the pitch, PSG dominate easily but struggle to break through against well-organised opponents. 
Lorient are a rabble, but many of Ligue 1's clubs have evolved in recent seasons and the shocks sprung by Guingamp and Montpellier perhaps should have been anticipated.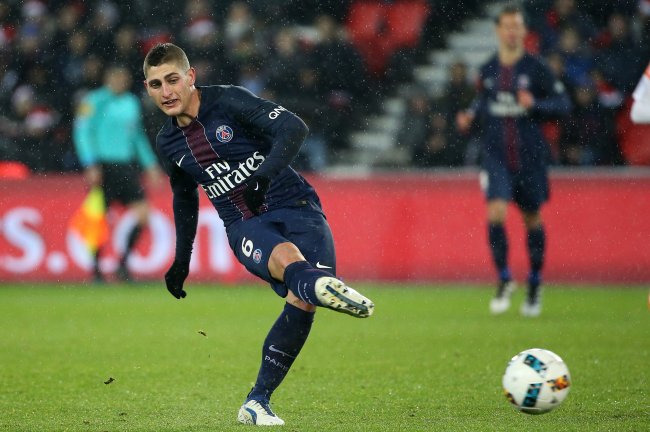 Jean Catuffe/Getty Images

Lone Star—Marco Verratti is one of the few Paris players to have performed near his best this season.
Those defeats—humiliations in all honesty—may yet be seen as disguised blessings if they help force Emery to change his system and make better use of his squad, but there has been little indication that will be the case. 
Instead, he remains committed to his philosophy and will, in a metaphorical sense, live or die by it. 
Paris are beset by problems at all levels and the surely inevitable dismissal of Emery will not resolve them all. But, with the winter break upon them and a transfer window available to at least deal with some of the more pressing issues, there may not be a better time for the club to act. 
PSG need to find direction.