If Novak Djokovic was vulnerable heading into his match against streaking Jo-Wilfried Tsonga, he never got the memo. The world No. 1, dealing with wrist and right arm problems a week ago, obliterated the Frenchman in two sets, forcing him to limp away with a knee strain.
Maybe irony is the new normal because the healthier Djokovic gets, the quicker his opponents fall. Three of his five victories were not completed by powerful players, and the Serbian marches on with increased vigor.
Then there's No. 2 Andy Murray, fresh off destroying resurgent Grigor Dimitrov. This was supposed to be a challenge against one of the most talented players on tour who was in the zone and who has defeated Murray in a couple of big matches over the past two years. Next, please.
If Kei Nishikori or anyone else thinks about knocking off the scrappy Scot before the final, they are going to have to dial up untapped powers. Murray isn't giving an inch, knowing he will need every ounce of tennis strength and acumen to continue playing the best tennis of his career. Nothing less will do for the inevitable mega challenge against his supreme rival Djokovic.
The U.S. Open final is still a few days away, but everything between Djokovic and Murray is a mere formality until they clash for their super-summit meeting. The New York air is thick with this rivalry—a palpable tension that increases as destiny looms closer.

EDUARDO MUNOZ ALVAREZ/Getty Images

Superman vs. Batman
For all but a handful of months since 2011, Novak Djokovic has been the most dominant player in tennis, by far. There were times between 2012-14 that he was less than his best, but since 2015, he's donned his red cape and lapped the ATP world tour as if he were the son of Jor-El. Not even kryptonite could slow him down in major finals while he captured the Grand Slam three months ago at the French Open.
Meanwhile, Murray has had to use his fitness, wits and determination to stay in the battle, bouncing back to the Batcave time and again to train and and draw up new schemes to challenge Superman. He's overcome back surgery from 2013, suffered through lackluster play in 2014 and dealt with the frustrations of major finals losses and the impossible task to close the gap to Superman's reign.
Now the tennis gods have intervened, levelling the playing field for Djokovic vs. Murray through a series of rapid and contrasting developments.
First, Djokovic proved he was at least partially human, losing in the third round at Wimbledon, bowing out first thing at the Olympics and revealing he had personal problems and a left-wrist injury. It was enough that he skipped the Western & Southern Open—the only big title he has not engraved on his nearly impeccable resume.
Early on at the U.S. Open, Djokovic played hurt, and it looked like his chances to endure, let alone win the title, were in jeopardy. But Superman has a way of getting stronger when he flies closer to a yellow sun, and right about now he's approaching planet Mercury with maybe his most remarkable turnabout to get back to being the favorite.
Second, Murray has risen to new heights, calling on coach Ivan Lendl to equip him with the control and aggressive demeanor speeding through Gotham City and able to deflect everyone's best shots. He won Wimbledon and the Olympics gold medal for the second time apiece. He's been tracking down shots with his radar-sense of scrambling defense and offensive variety, socking harder and disappearing into the night with nothing less than total mastery.
There's no let-up because Murray expects his biggest fights and triumphs are just ahead. "It's very rare that you get through a slam without playing Novak, Roger or Rafa," Murray said to the Press Association (via the Daily Mail) just after Wimbledon. "But I still feel like my best tennis is ahead of me, that I have an opportunity to win more.
"Everyone's time comes at different stages. Some come in their early 20s, some mid 20s. Hopefully mine is still to come."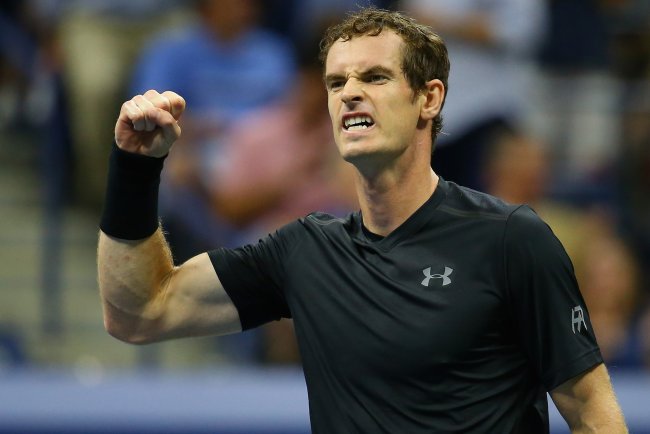 Mike Stobe/Getty Images

Rivalry Lessons from the Past
Djokovic has been the superior player through the past decade, no question. He holds 12 major titles to Murray's three. He has 215 weeks as the No. 1 player, while Murray has never climbed higher than No. 2. As recently as the French Open, Djokovic showed any title clash against Murray was his to lose.
Does rivalry history still matter? Although Djokovic has won 24 of their 34 meetings, and 13 of 15 times since Wimbledon 2013, they have split their two meetings on the faster surface at the U.S. Open, where it helps Murray counter with more equal power and take away some of the time Djokovic prefers on slower hard courts like at Melbourne, Indian Wells and Miami.
In some ways, Djokovic's more complete offense is the modern answer to his late 1980s parallel twin Lendl, who as a player dominated the No. 1 ranking and the Grand Slam scene.
Who Will Win the 2016 U.S. Open?
Murray is more in the image of Lendl's rival Mats Wilander—a defensive shot genius who could direct deep shots with the patience and timing that netted seven major titles.
In the 1988 U.S. Open, Wilander completed the greatest tennis run of his career, overcoming Lendl and briefly taking the No. 1 ranking. There's remarkable symmetry in Murray's quest to take down Djokovic this weekend. If so, they would each have two major titles for the year, but Murray would be in the driver's seat to get the No. 1 ranking by the year-end World Tours Final in November.
Perhaps Murray would blunt the Djokovic domination, keeping him from threatening Federer's 17 career majors. After all, Djokovic once wore the spoiler's shoes when he launched the first phase to his epic rise. He took over the tennis world in 2011, halting Nadal's career pinnacle following 2010 with three majors and all the career momentum that seemingly had destined the Spaniard to catch and surpass Federer.
Will Murray build his own special peak at Djokovic's expense, or has Superman come out of the phone booth once again to rule Planet Earth.
The rivalry has never looked bigger.